USA
Dead Law Walking
Why are New York cops arresting gay people on charges ruled unconstitutional 26 years ago?
Slate – October. 20, 2009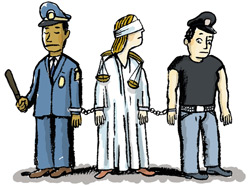 In 1983, New York's high court struck down as unconstitutional a 1960s-era provision that made it illegal to cruise—that is, to hit on someone in a public place. And yet in the 26 years since, on thousands of occasions, the New York Police Department has continued to enforce the defunct law, historically used to target gay people.
The defendant in the 1983 case was a gay man arrested for striking up a conversation with a plainclothes police officer and asking him back to his house for sex. The court threw out the anti-cruising law, reasoning that the state couldn't criminalize an act anticipatory to sodomy when sodomy itself was constitutionally protected. (Two years earlier, the same court had found the state's anti-sodomy law unconstitutional.)
Whatever one may think of cruising and whether it should be prohibited, the court's ruling should have killed off the statute. Instead, in the 26 years of this law's odd posthumous career, district attorneys brought 4,750 prosecutions and judges convicted 2,550 defendants. For violating an imaginary law, these defendants paid a decidedly non-imaginary $70,000 in bail and $190,000 in court fees and fines. In the last 10 years, NYPD officers also issued 9,693 citations, forcing citizens to pay $71,000 in fees. The criminal records of these victims have never been expunged and the fees and fines have not been refunded. Read more
______________________________________________________________________________________
ACLU Backs Gay Sex in Public Toilets under "Privacy" Provisions
January 16, 2008
MINNEAPOLIS – The American Civil Liberties Union is arguing that men who have sex in public washrooms should be protected under court rulings guaranteeing privacy.
On Tuesday, the ACLU filed an amicus brief to the Minnesota 4th District Court citing a Minnesota Supreme Court ruling 38 years ago that found that people who have sex in closed stalls in public restrooms "have a reasonable expectation of privacy."
The brief was filed in defence of Republican Senator Larry Craig who was arrested and charged with lewd conduct in June 2007.
ACLU Executive Director Anthony Romero said, "The real motive behind secret sting operations like the one that resulted in Sen. Craig's arrest is not to stop people from inappropriate activity. It is to make as many arrests as possible – arrests that sometimes unconstitutionally trap innocent people." Solicitation for private sex is protected speech under the First Amendment, the ACLU argues. Read more